My musical journey began at 14. upon entering highschool, it did not take me long to realize that i had very little desire to remain within the walls of a classroom or to learn what had been deemed important by someone who had risen to importance. my brother had just decided to learn the guitar and i latched on to the dreams of rock stardom and repeatedly "borrowed" the guitar from his room to learn it myself. it quickly grew into a passion that eclipsed my boredom and frustration with high school life.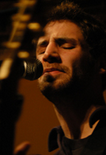 Along came the first band, spinning jenny. 6 months after picking up the guitar the songs were pouring out. the lyrics talked mainly about love…i mean, true love as only a fourteen year old understands and can possibly convey. our best attribute was that we were ambitious…even my parents had to look hard to find the right words of encouragement, without feeding us bald faced lies. spinning jenny changed and morphed slightly over the next 5 years and when we got tired of the name, we moved on. mr. marx was next and then for the final chapter of the spinning jenny we adopted the title echo lounge…echo lounge was a sort of psychodelic (pink floyd, beatles) rock. those years carried me through high school, gave me a musical foundation and taught me how to love creativity.
After highschool i went to india (where i was born) and joined a rock group named olio in north india. i travelled with them for 6 months and i returned to the states to take shot at university which turned out to be a short lived extension of high school for me…complete with bad grades and bad teachers. in between the touring, chris hale one of the founding members of olio became a musical mentor to me and we developed a close friendship. the musical connection and friendship led us back together 2 years later and we formed the group, aradhna, and began to investigate the spiritual music of north india (bhajans).

5 years of expermenting and stumbling upon new sounds has taken us to 5 continents and to 10 countries. chris and my friendship and musical collaboration continues to grow. you can find more on aradhna at www.aradhnamusic.com
Musically speaking, "until we see" is a collection of my musical knowledge and experience from spinning jenny, mr marx, echo lounge, olio and aradhna…that is really only 3 bands not 5. lyrically, it draws from my own life encompassing both victories and struggles. you can read more about the album creation in the section "about the album".